AIDA EUROPE
Forthcoming Events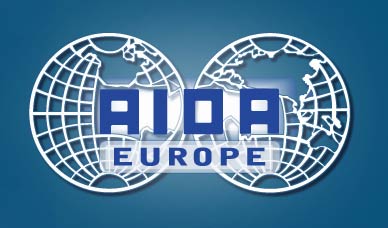 SAVE THE DATE

V AIDA EUROPE CONFERENCE, COPENHAGEN 2015 The V AIDA Europe Conference will take place on Thursday 11 and Friday 12 June 2015 at the Scandic Copenhagen Hotel, Vester Sǿgade, DK-1601 Copenhagen. The title of the conference is
"In the Beginning it is the Market, In the End it is the Law"
Attached is the draft programme as well as the booking form for the conference

We have held a block of rooms at the Scandic Copenhagen Hotel which is a 5 minute walk from Copenhagen Central Station. The rate is DKK1390 for single occupancy, DKK1590 double occupancy in a twin bedded room, DK1590 double occupancy in a double room, inclusive of breakfast. We also have six junior suites, DKK1790 for single occupancy and DKK 1990 double occupancy inclusive of breakfast. The junior suites are only available on 11 and 12 June 2015. All rates include wireless internet access. To book a room at this hotel, click on the link below and use the booking code, also below:
Book here: www.scandichotels.com/copenhagen

Booking code: BAID100615
We have also held a limited number of rooms in two categories at CABINN, Scandinavia Hotel on the following basis:
Standard, single occupancy DKK545 excluding breakfast, DKK 615 including breakfast
Standard, double occupancy DKK655 excluding breakfast, DKK 815 including breakfast
Commodore, Single occupancy DKK645 excluding breakfast, DKK 715 including breakfast
Commodore, Double occupancy DKK775 excluding breakfast, DKK 915 including breakfast
To make a reservation at the CABINN Scandinavia Hotel, please email Scandinavia@cabinn.com quoting reference 1679350 to get the conference rate. You will need to provide credit card details to reserve your room.

oOo

Vth AIDA Europe Conference Scandic Copenhagen Hotel 11th -12th June 2015 AIDA Europe Academic/Students Sub-Committee TO ALL WORKING PARTIES CHAIRMEN AND TO ALL AIDA CHAPTER PRESIDENTS Ref: "Academic/Student Prizes - Advance Notification" In view of the Vth AIDA Europe Conference which will take place in Copenhagen, Denmark, at the Scandic Copenhagen Hotel on 11th & 12th June 2015, please note the following timeline with regards to the Academic/Student Prizes institution:
In late May 2014 we will address all AIDA WP Chairmen and AIDA National Chapters Presidents asking them to propose topics.
The deadline for the submission of the proposed topics by the AIDA WP Chairmen and the AIDA National Chapters Presidents will be Monday the 30th of June 2014.
Following the submission of the proposed topics by the AIDA WP Chairmen and the AIDA National Chapters Presidents, Prof. Dr. Robert Koch and Dr. Kyriaki Noussia will issue the call for the Academic / Students Prizes in mid July 2014. The call will be placed at theAIDA Website. In addition, all AIDA WP Chairmen and AIDA National Chapters Presidents will be notified by e-mail.
The deadline for the submission of proposals from the respective interested parties (i.e. the call respondents) will be the 30th November 2014.
Prof. Dr. Robert Koch and Dr. Kyriaki Noussia will notify the AIDA Europe Committee their proposed list of successful respondents on the 31st of December. 2014.
Around the 15th of January 2015 the result will be communicated to the successful participants to the call.
The deadline for the submission by the successful participants of the relevant powerpoint and paper will be the 31st of May 2015.
The presentation of the successful participants' papers will take place in June 2015 during the Vth AIDA Europe conference proceedings.
Hamburg / Athens April 2014 AIDA Europe Academic/Students Sub-Committee Prof. Dr. Robert Koch Dr. Kyriaki Noussia The following is the Call for Papers for the V AIDA Europe Conference in Copenhagen, as referred to above: AIDA Europe Academic/Students Sub-Committee Call for Papers (V AIDA Europe Conference, Copenhagen, 11-12 June 2015) The AIDA Europe Student/Academic Sub-Committee, comprising of Prof. Dr. Robert Koch and of Dr. Kyriaki Noussia, invites students and young academics / practitioners to participate at the Vth AIDA Europe Conference, to be held in Copenhagen on 11-12 June 2015. In this respect we hereby issue the present call for papers, so that we can assess prospective papers that will be submitted to us for potential selection for presentation at one of the Working Parties' sessions in terms of the AIDA Europe conference in Copenhagen next June. Those interested in participating at the call should send to both Prof. Dr. Robert Koch (Robert.koch@jura.uni-hamburg.de) and Dr. Kyriaki Noussia, (noussia@gmail.com) an abstract of one A4 page for one of the below topics or any other. If selected, they will then - at a later stage - have to submit the article corresponding to the presentation to be made, as well as the power-point presentation document. Similarly, those selected to present will be invited to present their paper at the respective Working Party's session to which their topic matches in terms of content and area of insurance law. In addition, they will be invited and welcomed to attend the AIDA Europe conference per se. Accommodation for 2 nights as well as flight expenses (economy class return air-fare) will be provided together with a conference fee waiver. The topics set, are as follows: Consumer Protection and Dispute Resolution Working Party - Proposed Topics
"Solvency II and consumer protection: will the consumer be better protected after Solvency II?"
"How to define the "insurance consumer" and whether it is preferable to protect the insurance consumer via special insurance law provisions or via general provisions set by the consumer legislation?"
Distribution of Insurance Products Working Party - Proposed Topic
A paper on the regulatory and contractual framework of group insurance
Climate Change Working Party - Proposed Topics
Can claims against states, public or corporate bodies for compensation for breaches of international treaties, statutory or other mitigation obligations represent an appropriate and effective means of combating and spreading the risk of Climate Change? What role do,or should, insurers play? Are changes needed to any causation legal/evidentiary hurdles to be overcome? Who should ultimately bear responsibility for mitigation strategies and who should ultimately bear any cost?
Examples may be used from candidate's own jurisdiction or from others to discuss the issues.
Are specific legal tests or insurance provisions adequately in place to determine easily whether coastal hurricane damage exacerbated by Climate Change-induced sea level rises should be regarded as wind-caused or flood-caused damage? What difficulties have already become apparent in such cases and how might they best be overcome?
Issues arising appear to include burden of proof and coverage and policy exclusion challenges.
Is any "damage" traceable to GHG emissions covered by "pollution" damage cover? How is the question resolved in different jurisdictions and to what legal challenges and coverage difficulties is this giving rise?
Are national environmental laws and insurance policy terms respectively adequately defining the term, "pollutant" to address all GHG emission policy coverage issues arising from Climate Change?
General Topics
The latest modalities of Reinsurance: insurance or financial activity?
Assurance (life insurance) and the legitimacy of assets (money-laundering).
The continuing duty of good faith in insurance contracts
Age discrimination in insurance
Focus of Underwriters on Dispute Resolution/Jurisdiction Clauses in policies concerning risks pursuant to persons and entities in emerging economies.
The above list is not conclusive. Proposals dealing with current developments in other areas of insurance law are welcomed. Important dates to hold: Deadline for submission of Abstracts: 30th November 2014 Decision on the submitted Abstracts: 15th January 2015 Deadline for submission of the Article: 31st May 2015 Deadline for submission of the Power-point Presentation Document: 31st May 2015 In AIDA Europe we always strive to encourage young students and young academics and practitioners. We look forward to receiving your abstracts. Prof. Dr. Robert Koch (Robert.koch@jura.uni-hamburg.de) & Dr. Kyriaki Noussia (noussia@gmail.com) AIDA Europe Academic/Students Sub-Committee Hamburg - Athens, July 2014