WORKING PARTIES
Motor Insurance
Chairperson
Sara Landini Dipartimento Di Diritto Privato e Processuale Via Pandette 35 50127 Firenze Italy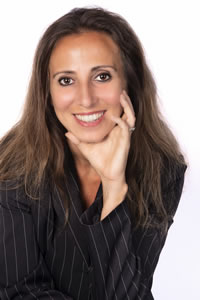 CV attached here Email: sara.landini@unifi.it sara.landini@unifi.it Vice- Chairwoman: Peggy Sharon Peggysh@levitansharon.co.il Secretary: Torbjorn Ingvarsson Torbjorn.Ingvarsson@jur.uu.se Advisers: Manfred Wandt. wandt@jur.uni.frankfurt.de Eduardo Mangialardi. eduardomangialardi@estudiomangialardi.com.ar Pierre Fata Diouf. pierrefatadiouf@yahoo.fr Csurgó Ottó. csotto@t-online.hu Chairman, Latin American Sub-Group: Marcus Frederico B. Fernandes
Sylvio S. Fernandes - Advogados Associados
Rua Matias Aires, 402 - 11º andar
São Paulo - SP - CEP 01309-020
Tel: +55 11 3255-2226
frederico@ssfadvocacia.com.br)

ABOUT THE MOTOR INSURANCE WORKING PARTY

Formation

Motor Insurance Working Party is one of the oldest AIDA WPs. Among its Past-Chairmen we can remember Raffaele Deidda (UCI President) and Armando Zimolo Inassitalia- Chief Editor of "Assicurazioni" (founded by Antigono Donati) one of the oldest Italian reviews.

The present WP composition under the Chairmanship of Sara Landini was approved by the AIDA Presidential Council at the meeting in London on 12 September 2012. The Vice-Chairman, the Secretary and the Advisers have been appointed the days later.

Purpose

Motor Insurance is of special importance for citizens, whether they are policyholders or victims of an accident. It represents a compensation mechanism in case of car accidents; moreover it has a relevant impact on the free movement of persons and vehicles.

Antigono Donati treats Motor Insurance as part of the "social stage" in the process of evolution of Liability Insurance

"we soon realize, however, that the insurance of the civil liability can play much broader functions than those limited to the interest of any responsible person.... We soon realize that if the concept of liability has led and developed the liability insurance, this has certainly contributed to the further opening of the first, so as to represent more than a vicious circle, an upward spiral in the progress of the law. And we realize also that the function cannot be limited to the protection of the tortfeasor's exclusive interest, but it is necessary to expand the protection of the real victim, the injured third party" (A. Donati, Trattato del diritto delle assicurazioni private, III, Il diritto del contratto di assicurazione, 2, La disciplina delle singole specie (rami) di assicurazione, Giuffré, Milano, 1956, p. 329.)

Projected Areas Of Study/Session Topics/Reports

Topics of interest will be selected over time according to their perceived significance or suitability for comparative studies, taking in to account the international literature, case law and the most recent normative and technological innovations.

PAST EVENTS

Meeting in Lisbon 8 May 2013.

Main topic: "Indemnification procedures in Motor Insurance, social function of coverages and costs' control"

Introduction to the topic and questionnaire

General Report prepared by Prof. Sara Landini and summary of discussion

An Italian Project - Coordinator Prof. Marco Frigessi di Rattalma

oOo

Joint meeting with the AIDA Climate Change Working Party in Sydney between 18-20 September 2013.

AIDA - Minutes of CCWP + MIWP Meeting Sydney 18.9.13 - click here

Introduction and questionnaire on one of the topics proposed for the meeting: Green Car and Insurance - click here.

Presentation of the answers received by Sara Landini, Peggy Sharon, - click here.

Written answers to questionnaire from Brazil, Israel, Italia, Japan, Netherland, UK - click here.

Written answers from Argentina - click here.

Written answers from Uruguay click here.

Other items relating to the Sydney meeting are available on the CCWP page of the AIDA website.

oOo

Meeting in Athens, 8 May 2014 at 17.30.

Main topic: "Motor Liability and Boat Liability: damages, compensation, insurance. A comparison". click here

Attached is the Agenda for the meeting.

Greener & Safer by Sara Landini and Peggy Sharon click here

Motor Liability Insurance and Boat Liability Insurance in Italy by Sara Landini click here

The Recoverability of the Damages of Third Parties Insured by Christodoulo Costantinos click here

The Israeli Compensation System in Respect of Road Accidents by Ilan Kaner click here


oOo

Meeting in Rome, 1 October 2014

Main Topic: Black Boxes, Ecodriving and Fraud Prevention.

Attached is the Agenda for the meeting. Presentations are set out below:

1. Jonathan Hewett , Group CMO - Octo Telematics Spa, London, United Kingdom 2. Peggy Sharon, Partner, Levitan, Sharon & Co,Tel Aviv, Israel
3. Prof. Ilaria Garaci, European University of Rome, Italy 4. Ilan Kaner, Lawyer in Tel Aviv, Israel



oOo

XIV Congress AIDA - CILA

La Habana/Cuba 8 de Abril de 2015 h. 9-10,45
Hotel Nacional de Cuba
MIWP meeting
Chaired by Prof. Eduardo Mangialardi
Main Topic: Frauds in Motor Insurance


oOo

Vth AIDA Europe Conference, Copenhagen 11/12 June 2015

The last meeting of the Motor Insurance Working Party took place at the Vth AIDA Europe Conference in Copenhagen on Thursday 11 June. The following are the presentations from the meeting:

Ilaria Garaci ADR in Italian Insurance System
Sara Landini Handling Complaints Management in Motor Insurance
Ilan Kaner Electric Bicycles Insurance

Attached is a Report of the meeting.


oOo

MIWP meeting Paris 2nd December 2015

Attached presentations of Nicholas Bevan, Matthew Channon, Ilan Kaner and Sara Landini from the joint meeting of the Motor Insurance and Climate Change Working Parties which took place on 2 December in Paris.


oOo

A Meeting of the Motor Insurance Working Party took place in Helsinki on 16 June 2016 at the University of Helsinki. Attached is the Agenda for that meeting plus Minutes and presentations by Ilan Kaner and Matthew Channon. Below are some images from the meeting: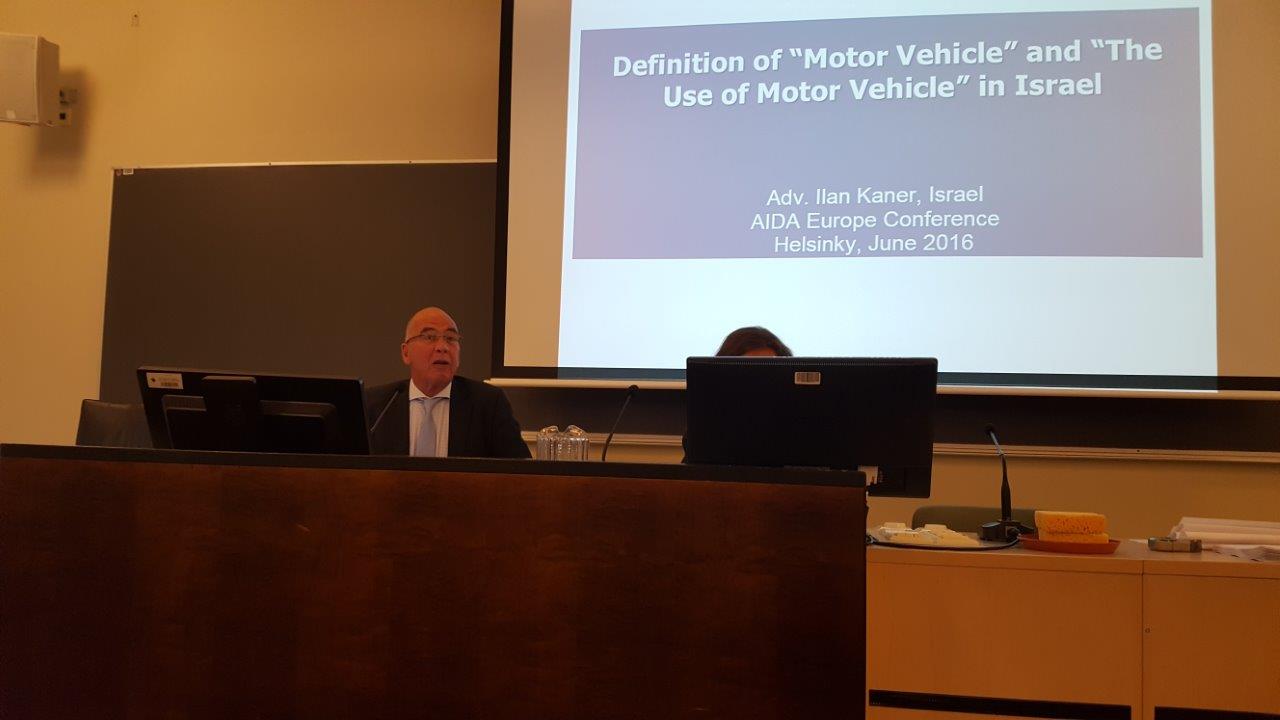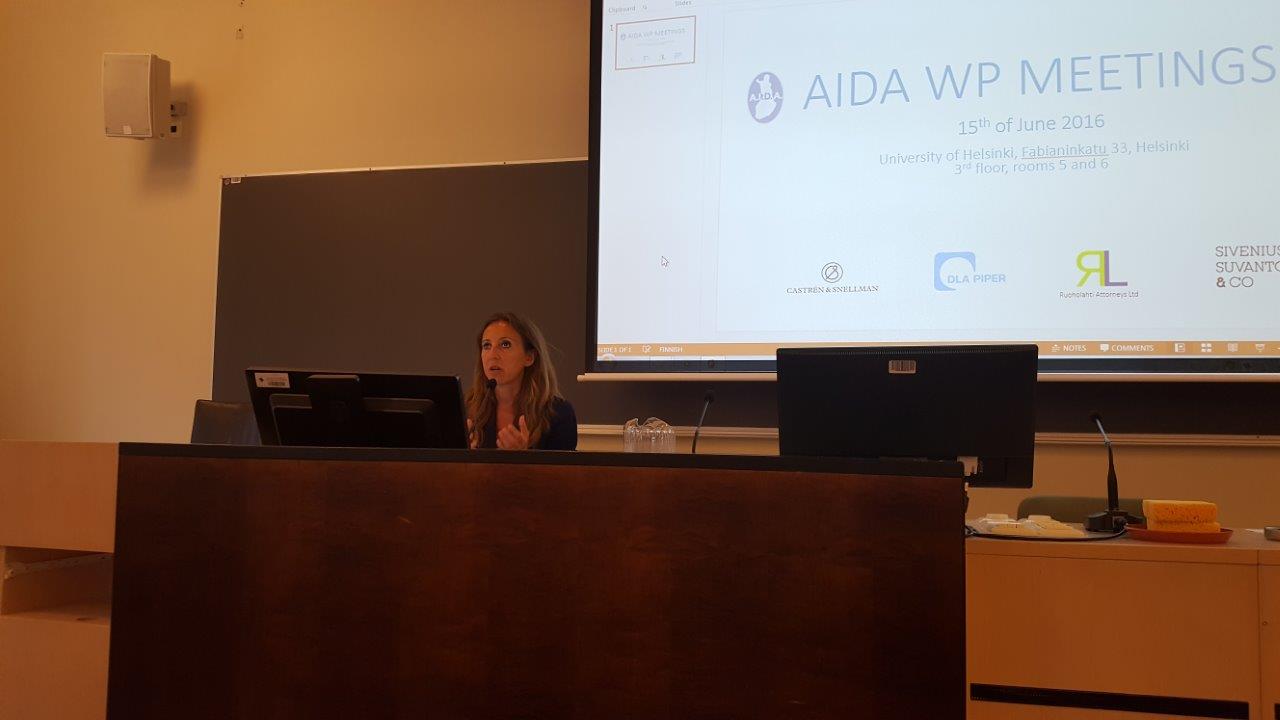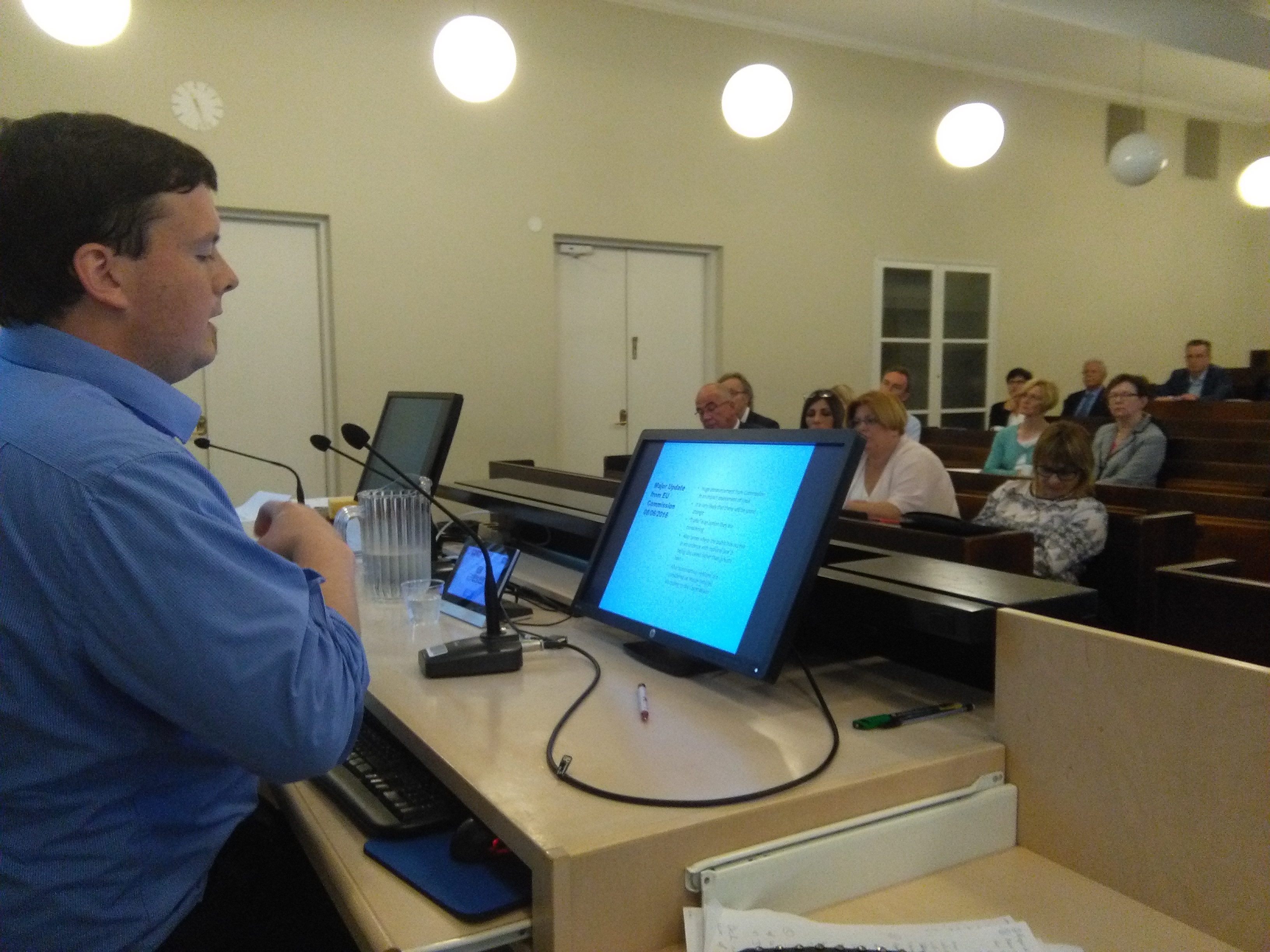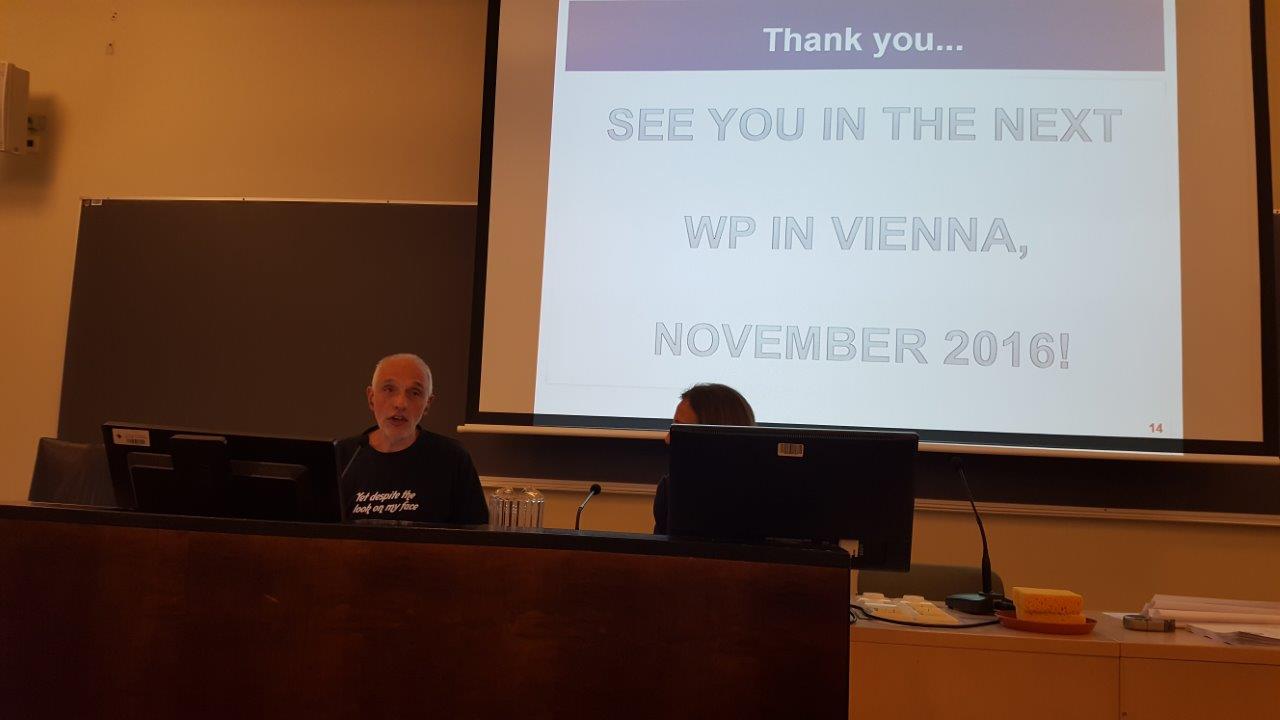 oOo
Meeting - 4 October 2016
Attached is the agenda
MIWP MEETINGS BOOK, ESI publishing, 2016
Presentation on La Ley Peruana de seguro

oOo
Meeting - 3 November 2016
A meeting of the Motor Insurance Working Party took place in Vienna at the time of the VIth AIDA Europe Conference at Le Meridien Hotel, Opernring 13-15, Vienna.
Attached is the agenda, the presentation of Peter Axelrod, Special Counsel, Meridian Lawyers, Brisbane, Australia and the presentation of Matthew Channon, University of Exeter. This year's Student/Young Lawyer prize winner.

oOo
Meeting - 18 October 2017
A meeting of the Motor Insurance Working Party took place on 18 October 2017 at the time of the Asia-Pacific Insurance Conference, the presentations are attached below:
Technologies and Big data in Motor Insurance as instrument to combat frauds - Sara Landini 
Autonomous Vehicle, Liability, Insurance and Regulation - Peggy Sharon
How New Technologies are Changing Italian Motor Insurance - Prof. Giacomo Pongelli

oOo
Meeting - 13 April 2018, Sofitel Victoria Hotel, Warsaw
Joint meeting Dispute Resolution - Motor Insurance Working Parties
Chairmen: Chris Rodd and Sara Landini
"After the Dieselgate"
Speakers:
"After Dieselgate - An Australian Perspective" - Chris Rodd

After Dieselgate - the situation in Italy (part 1) - Roberta Montinaro
After Dieselgate - the situation in Italy (part 2) - Ilaria Garaci
"Volkswagen emissions scandalLegal Actions in Israel" - Ronit Warshai
Attached is a Report of the joint meeting.
Rio World Congress, 10-13 October 2018
MIWP Meeting Agenda
Chair Sara Landini
Peggy Sharon "Automated Cars in Israel"
Giacomo Pongelli "Automated cars and new technologies impacts on italian
and european motor insurance"
Washington Silva "Automated Cars in Brazil"
Report of the meeting
ASTIN AIDA collaboration on a survey on Automated cars
Last Meeting of Motor Insurance Working Party
The Working Parties on Distribution of Insurance Products, General Principles of Insurance Law and Motor Insurance met jointly on 24 April at the AIDA Morocco Conference. Attached are the Agenda and Minutes of that meeting.
The Presentations are below:
Viktoria Chatzara - FinTech, InsurTech and the Regulators
Alkistis Christofilou - Internet of Things and Insurance
Dr Kyriaki Noussia/Prof Dr Sara Landini - ASTIN & AIDA Working Party on Automated Cars and Insurance Report, April 2019
Andrea Signorino Barbat - Third Party Liability in Motor Insurance: Problems and Challenges from a Latin American Perspective

oOo
NEWSLETTERS
Following an old tradition of Motor Insurance WP, a special section will be dedicated to "Newsletters". In order to distinguish the content of this section from the one of the section above, here we have bibliographic newsletters: "Books and Papers of interest".
Indication about recent books and papers of interest can be sent to Sara.Landini@unifi.it
Newsletter 2014-2016 - Books and Papers of Interest
Newsletter 2013 - Books and Papers of Interest
Newsletter 2012- Books and Papers of Interest

Motor Insurance Working Group Bulletin, May 2002

Motor Insurance Working Group Bulletin, May 2003

Motor Insurance Working Group Bulletin, November 2003
Minutes of the Motor Insurance Working Party meeting held at the AIDA Europe Conference in Zurich on 22 October 2009
A Summary of the meeting of the Motor Insurance Working Party meeting held at the XIIIth AIDA World Congress in Paris on 19 May 2010 is attached here. To view the "Normative & Management Characteristics of Motor Third Party Liability Insurance in the World" prepared by the Motor Insurance Working Party for their meeting at the XIII World Congress in Paris, May 2010 click here